 -2023-
ASSOS SPEED CLUB
Speed Club is back with a new
jersey, local ride series, and
Strava Challenge.
ASSOS Speed Club is a collective of cyclists
who come together to ride, to race, and to
push each other further.
SPEED SYSTEM
Introducing the 2023 ASSOS Speed Club Jersey,
featuring our iconic second-skin racing fit, ultralight
textiles, and bold split-screen graphics.
Both men's and women's jerseys are optimized
to pair with the RS Bib Shorts and ASSOSOIRES for
the complete speed system.
LET'S RIDE
Speed Club rides are organized with ASSOS
dealers worldwide. Select your region below
to find upcoming rides near you.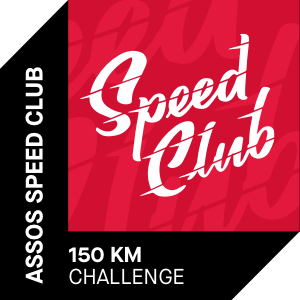 RIDE 150KM IN 14 DAYS
MAY 26 – JUNE 8
ASSOS Speed Club is back, returning this spring with our "150km Challenge."
150km marks the average distance between our main textile suppliers and production,
which is one action we're taking to reduce our environmental impact
and ensure the highest levels of quality control.
WHEN YOU COMPLETE THE CHALLENGE, YOU WILL:
Unlock 15% off your next ASSOS purchase online at ASSOS.com, or at your local dealer.
Be entered to win 1 of 40 new pairs of GT shorts.
TERMS AND CONDITIONS