ASSOS SPEED CLUB
Speed Club is back with a new
jersey, local ride series, and upcoming
Strava Challenge.
ASSOS Speed Club is a collective of cyclists
who come together to ride, to race, and to
push each other further.
SPEED SYSTEM
Introducing the 2022 ASSOS Speed Club Jersey,
featuring our iconic second-skin racing fit, ultralight
textiles, and bold color-shifting graphics.
Both men's and women's jerseys are optimized
to pair with the RS Bib Shorts and ASSOSOIRES for
the complete speed system.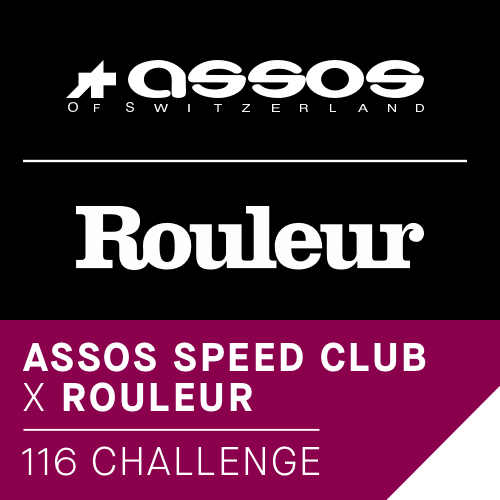 RIDE 116KM IN 2 WEEKS
DECEMBER 3 – DECEMBER 16
ASSOS Speed Club back, partnering with Rouleur for our 116 Challenge.
A nod to the number of issues of Rouleur, this challenge invites you to complete at least 116 kilometers in 2 weeks.
WHEN YOU COMPLETE THE CHALLENGE, YOU WILL:
Unlock 15% off your next ASSOS purchase online at ASSOS.com, or at your local dealer, and a code to unlock 4 Rouleur issues for the price of 2.
Be entered to win 1 of 50 pairs of new ASSOS DONZI Eyewear + Rouleur 1-year print subscription.
TERMS AND CONDITIONS
#ASSOSSpeedClub
Tag your posts with #ASSOSSpeedClub or mention @assosofswitzerland into your caption and become part of the ASSOS community.
Follow us @assosofswitzerland